Kidpower Confident Kids Programme
What is the Kidpower Confident Kids Programme?
Five skill sets and 25 activities make it easy to build essential safety skills, a common language and a respectful culture with peers and other people. The programme is suitable for families, groups, and schools. It is set up to ensure that everyone is on the same page, developing and using the same safety strategies.
Confident Kids is based on the copyrighted Kidpower curriculum. The first version was developed in collaboration with the New Zealand Police Youth Education Services team in 2003. The current edition can be used as a standalone and/or to support Keeping Ourselves Safe and Kia Kaha.
Who is the Confident Kids Programme for?
Professional Development (1 hour) gives teachers a good understanding of what and how their students will be learning and how they can support and tailor that learning to specific needs. This interactive session gives everyone the opportunity to rehearse the safety skills and to use the Kidpower Positive Practice Teaching MethodTM.
Caregivers/Whānau Sessions (1 hour) prepares parents and other adult family members to give children consistent messages and to understand how everyone can work together to keep their young ones safe. Time for Questions & Answers allows participants to bring up specific concerns.
Facilitator Training for Other Caring Adults
You can start today, practising skills with children in your community as a non-certified facilitator using the Kidpower tools and resources and/or become a certified Kidpower Instructor.
What Teaching Resources are provided?
The Facilitator Guide covers aims and objectives, how to teach safely, and how to handle disclosures. It includes
25 Role-play scripts, activities, and games using the Kidpower Positive Practice Teaching Method™ and 11 Copy sheets with tips, sample letters for caregivers, and evaluation forms.
6 Colour Posters (A3) provide visual tools to build and reinforce a culture of respect and safety, covering the Essential Safety Skills
Essential Safety Skills (overview)
I Am Confident and Alert
I Take Charge
I Set Boundaries
I Protect Myself
I Get Help
"To achieve the best results, self-protection programmes should incorporate parental involvement, opportunities for practice, repeated exposure."

(Kenny, M., Capri, V., Thakkar-Kolar, R., Ryan E., Runyon, M., 2008)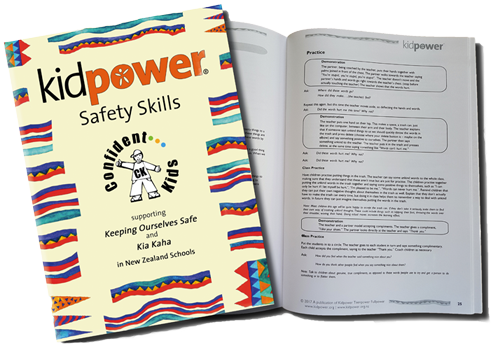 Links to New Zealand Curriculum Years 0-8
A1 Personal growth and development
A3 Safety management
A4 Personal Identity
B2 Positive attitudes
B2 Positive attitudes
C1 Relationships
C3 Interpersonal skills
(All prices include GST)
Order online
Kidpower Confident Kids - Guide including six A3 posters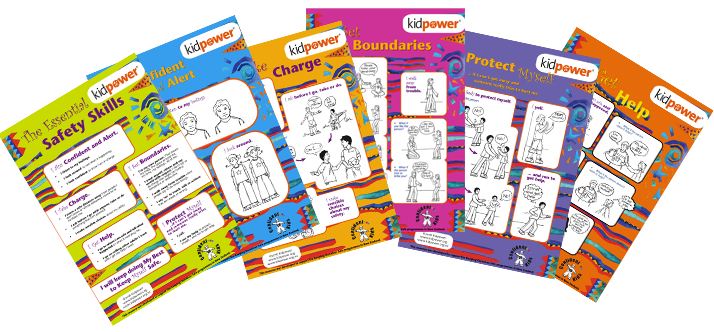 $95.00
---
Kidpower Confident Kids - Guide only
$65
---
Kidpower Confident Kids - Six A3 Colour Posters only
$18
---